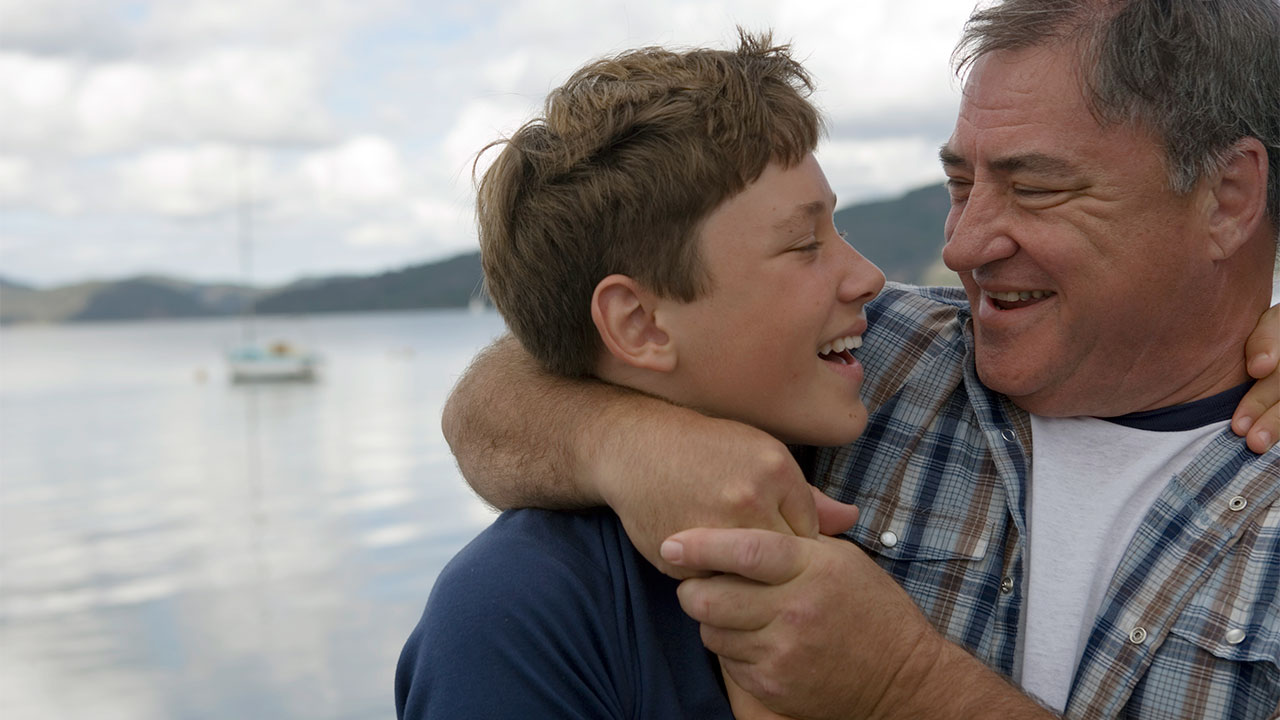 Have you ever wondered what happened to your little baby who was always happy to see you? Do you even remember what it was like to have a child who cried only when something was actually wrong? What about all those sweet hugs and cuddles? Even a single word of sweetness would be nice from a teen, but those are about as rare as $100 bills laying around in the street. As a father of 5, I fully understand how difficult it is to look at your teens and remember that they were once perfect little babies, and because of that, it can be difficult to conjure up the patience and compassion needed to deal with their emotions. It's difficult to feel compassion for someone who argues with everything you say and yells at you uncontrollably after a simple request to take out the trash. In spite of this, there is hope for teens, and chances are that if you love your teens and do your best as a parent, they will get over their teen struggles at some point, and you will have a good relationship with them, and they might even surprise you and turn out quite well. My wife and I have had our struggles as well, and while we are still in the thick of it (3 teens and 2 on deck), we have seen tremendous progress over the years in spite of our obvious shortcomings as parents. I may be a therapist, and I may treat teens and their families for a living, but it doesn't mean that I'm not human, and it doesn't mean that I don't make a lot of mistakes. The wonderful truth is that even when, not if, you make mistakes, you still can, and definitely should, repair those mistakes, and the future may yet still be very bright for you and your teens. Keep reading as I lay out 3 solid tips that just might make all the difference for you and your teens.
Repair Damage Immediately
Repairing emotional damage immediately is probably the most important habit you can form for your relationship with your teens, and it can lay the foundation for healthy, life-long relationships. Emotional damage attacks the soul like cancer attacks the body. Cancer begins with a DNA damaging event, which can happen due to things like experiencing traumatic events and consuming harmful substances. These events are not uncommon, but our immune system is very effective at destroying any cells with damaged DNA so they can't replicate. Cancer itself begins when the immune system fails to prevent these cells from replicating, and the result is that the cancer spreads, and this often leads to a life-threatening crisis within the body. Now let's apply this analogy to emotions and relationships. We suffer trust damaging events or connection damaging events in any relationship we engage in. These can be words that are spoken or actions that are taken that do damage to us emotionally. As with damaged cells, we need a similar immune response in our relationship to prevent the spread of the emotional damage, which can grow like a cancer and cause long term damage to the relationship, or even destroy it. If we act quickly to repair the damage, the likely result is that the damage will be repaired, and the relationship will stay strong, and trust will be gained. If we do not repair the damage, it sits in the gut and festers, the emotional equivalent of cancer spreading. Keep in mind that it is often impossible to repair during an altercation. It is usually much more effective to allow time for each person to calm down and think rationally. For example, if, in a bad moment, you say something you regret, like calling your teens stupid, follow this formula: wait for them (and yourself) to calm down, ask for a private meeting, identify the hurt (in this case calling them stupid), apologize for the hurt, explain that you don't actually believe that about them. This last step is the most important of all because what will fester within them is the belief that their own parent thinks they're stupid (or whatever else you may have called them). After that, allow time for healing.
Explain How Your Actions Are Motivated By Love
The teenage brain may be more developed than that of a small child, but teens are still very egocentric, and they have a difficult time thinking rationally when situations affect them and get in the way of what they want. This egocentricity has a way of making them feel that the actions their parents take are unfair and are meant to cause them harm. Because of this, they naturally begin to question how their parents truly feel about them. My advice is to emphasize often the love behind the actions you take. They may not understand it at the time, but since you have emphasized it, when they question how you feel about them in the future, they will already have your answer, and they may be spared the pain of dealing with the idea that their parents don't care about them.
Meaningful time with teens is time doing things with them that are the most important to them. This may not always be interesting to you, but it is very important to them. I have spent countless hours playing videos games, watching shows, being taught to draw, taste testing, learning new facts, taking walks, listening to music, shopping, and much more with my kids, and much of the time, I had no interest in doing any of those things, but the time spent with them meant something to them. If you think your teens would not want to do anything with you, you are most likely dead wrong. Your teens may not want to spend night and day with you, they may even want to be away from you a lot, but that is part of being a teen, and it doesn't actually mean that they don't want to spend time with you. They might just not want to play peek-a-boo anymore. Find the things they are most interested in and the things they want to share with you. Don't be discouraged if they resist your first attempts. Keep trying. They may need time to come around to the idea, but your attempts will communicate to them that they are important to you, and there are few things more important than knowing that.
Wrapping Up
Teens are difficult to raise, but remember that being a teen is difficult for them as well. They usually don't know why they do what they do either, and they greatly appreciate patience and forgiveness, even though they rarely express it. Also keep in mind that sometimes they are going through things that require professional help, and you may even want to seek counseling yourself to help you become a better parent and better connect with them. Whatever you do, remember that the best thing you can do is love them and do your best, and despite your mistakes, and as long as you don't give up, there is a good chance that you are building a foundation for a healthy relationship with your teens that will last a lifetime.
23 Nov 2018
For many people, the holiday season truly is the most wonderful time of the year, and for many others, this is an ideal they struggle to achieve. Whether you grew up with great holiday memories, struggling to recreate those experiences as an adult, or you grew up with terrible memories, now attempting to give your new family the opposite, it is not an easy task to achieve family unity and joy during the holiday season. Let's examine some common obstacles and how to work to overcome them.
Unresolved Issues
It is a common tendency in relationships to resolve issues by ignoring them. Doing so results in the buildup of pain and irritation. This is similar to an untreated infection in the body. Let's say you fall and scrape your knee, and many unsavory particles make their way deep into your tissue, and instead of cleaning it out, you simply put a bandage over it and ignore it. Over time, infection sets in, and touch becomes sensitive. Eventually, activities as simple as walking will become very difficult, if not impossible. In relationships, the unresolved issues are the infection. Any attempt to discuss those issues brings pain, and any attempt to draw closer together becomes difficult, and perhaps even impossible while the infection in the relationship remains. In these cases, it is recommended to seek relationship counseling. A qualified relationship counselor is skilled in healing conflict, just as a qualified physician in skilled in treating an infection. Resolving the issues removes the barriers to unity and joy in the relationship.
Family Culture
Thanksgiving and Christmas are so deeply loved by many people that any change to these holidays are often seen as wrong, or even heretical. Instead of bickering about which family tradition is correct and which is a mockery, it is better to understand that with the creation of a new family must come the creation of new and unique traditions. Any attempts to recreate past traditions will ultimately end in frustration since there are different people involved, and it is a different generation. Creating a new culture, your family's culture, the culture your children will forever remember, is a wonderful and rewarding endeavor that has the power to unify the family in a lasting way. This takes time, patience, and the consideration of new ideas. Many families can accomplish this on their own, but if those attempts fail, relationship counseling can be a wonderful tool to help build a strong, unified family culture.
Time
Time is currency in the world today, and anything we desire requires a payment. People have named our age the information age. It is called this because we can now access nearly any information we desire within seconds on a small rectangular device we carry everywhere we go. More than anytime in recorded history, we can manage most of our affairs without getting out of bed. We can pay bills, shop, connect with people, go to school, make money, watch movies, file a lawsuit, renew a prescription, all without even standing up. There is one thing, however, that we cannot do from this small rectangular device, and that is to build strong, healthy relationships. This requires time, time spent engaged with people, time not spent staring at a screen. We can't approach a relationship the way we monitor social media. The time required to build strong, healthy relationships is not small; it is substantial. Time is currency, and if we don't pay the full price, the result is like the cheap shirt we buy at the discount store that shows its first tear two weeks after buying it. On the other hand, if we spend substantial time together as a family, and that time is quality, it will be an investment that will pay us back with love and joy for years to come. In summary, the holiday season can be a wonderful time to build strong, healthy relationships if we resolve buried issues, if we create new traditions together, and if we spend large amounts of quality time together. If these attempts fail for any reason, seek a qualified relationship counselor who can help you and your family succeed.
Click here to contact Armstrong Family Counseling. Let us help you strengthen your relationship today.
22 Jun 2018
As we've recently celebrated Father's Day, I was reminded that the purpose of Father's Day is to acknowledge all fathers and celebrate their special day. However, if your family has been impacted by divorce, it may not seem like a celebration. If this sounds like your situation, it may feel extremely stressful for you, your ex, and your children. If you are a mother, please remember you are normally the first person your child bonds with. Therefore, you can assume a positive role of modeling how to respect their father, no matter how you may feel about him (unless he was abusive and safety is a concern.) I would ask the same type of respect from him on Mother's Day.
By having an open dialogue with your ex, your communication models how you have set aside any negative feelings toward the father(s) of your children because you know that is best for your child or children. Depending on the ages of your child/children, volunteer to take them to a card store so they can choose a Father's Day card. Or, if that isn't in your budget, suggest that they make a card.
If your child/children express an interest in giving dad a gift, again, follow through with their idea. If finances are an issue, once again, encourage them to make something for dad. Even if you have negative feelings toward their father, by helping them with these tasks, you are modeling for them how to care for another human being.
Allow your children to spend Father's Day with their dad on his special day. Try to do this no matter what is outlined in your parenting plan (if you don't have a parenting plan or need to revise it and don't want to pay for an attorney or the cost of going to court, consider contacting a mediator to help you resolve any conflicts or to assist you in making changes to the plan.) Flexibility and mutual consideration as co-parents makes your children much healthier emotionally and mentally.
If geography or travel logistics are an issue in bringing together your children and their father, suggest using social media so they can see each other. Depression, loneliness and isolation are common in divorced or estranged parent(s.) If you experience these things frequently, please contact a therapist and /or seek help. I can help you. Your children need you in their lives.
Fathers, you need to ask your ex-spouse and/or the mother of your children for what you need. Maybe you (father) would really like your child/children to spend Father's Day and an additional day since school is out for the summer. If you and your ex can communicate and practice being flexible, you are less likely to feel resentful.
For both parents, even though you are divorced, remember to stay focused on the needs and well-being of your child/children. It is crucial to plan ahead for holidays or other special days so your child/children see that even though you are divorced, both of you are co-parenting in healthy ways.
If you are struggling with co-parenting, or other issues, mediation may be something to consider. Mediation is a more peaceful, economical resolution to resolve conflict. Please contact me. I am a therapist and a Kansas State Supreme Court Approved Mediator. Let's start rebuilding your relationships today!