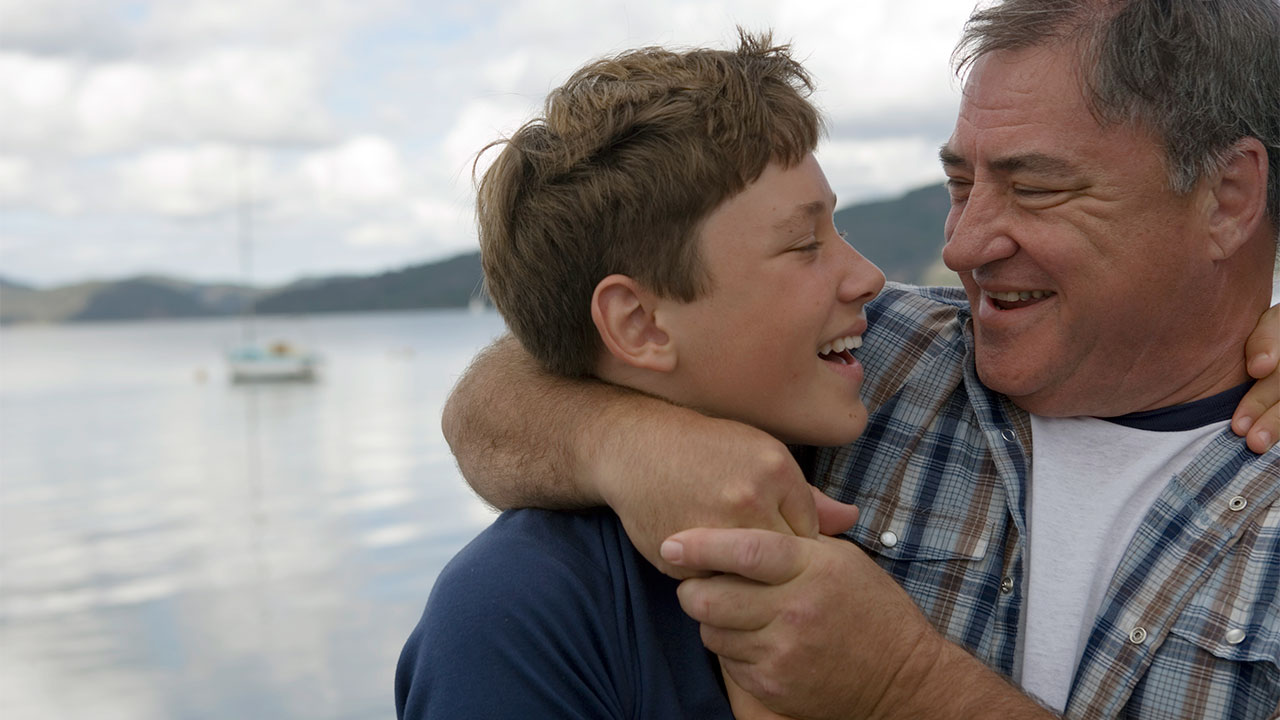 Have you ever wondered what happened to your little baby who was always happy to see you? Do you even remember what it was like to have a child who cried only when something was actually wrong? What about all those sweet hugs and cuddles? Even a single word of sweetness would be nice from a teen, but those are about as rare as $100 bills laying around in the street. As a father of 5, I fully understand how difficult it is to look at your teens and remember that they were once perfect little babies, and because of that, it can be difficult to conjure up the patience and compassion needed to deal with their emotions. It's difficult to feel compassion for someone who argues with everything you say and yells at you uncontrollably after a simple request to take out the trash. In spite of this, there is hope for teens, and chances are that if you love your teens and do your best as a parent, they will get over their teen struggles at some point, and you will have a good relationship with them, and they might even surprise you and turn out quite well. My wife and I have had our struggles as well, and while we are still in the thick of it (3 teens and 2 on deck), we have seen tremendous progress over the years in spite of our obvious shortcomings as parents. I may be a therapist, and I may treat teens and their families for a living, but it doesn't mean that I'm not human, and it doesn't mean that I don't make a lot of mistakes. The wonderful truth is that even when, not if, you make mistakes, you still can, and definitely should, repair those mistakes, and the future may yet still be very bright for you and your teens. Keep reading as I lay out 3 solid tips that just might make all the difference for you and your teens.
Repair Damage Immediately
Repairing emotional damage immediately is probably the most important habit you can form for your relationship with your teens, and it can lay the foundation for healthy, life-long relationships. Emotional damage attacks the soul like cancer attacks the body. Cancer begins with a DNA damaging event, which can happen due to things like experiencing traumatic events and consuming harmful substances. These events are not uncommon, but our immune system is very effective at destroying any cells with damaged DNA so they can't replicate. Cancer itself begins when the immune system fails to prevent these cells from replicating, and the result is that the cancer spreads, and this often leads to a life-threatening crisis within the body. Now let's apply this analogy to emotions and relationships. We suffer trust damaging events or connection damaging events in any relationship we engage in. These can be words that are spoken or actions that are taken that do damage to us emotionally. As with damaged cells, we need a similar immune response in our relationship to prevent the spread of the emotional damage, which can grow like a cancer and cause long term damage to the relationship, or even destroy it. If we act quickly to repair the damage, the likely result is that the damage will be repaired, and the relationship will stay strong, and trust will be gained. If we do not repair the damage, it sits in the gut and festers, the emotional equivalent of cancer spreading. Keep in mind that it is often impossible to repair during an altercation. It is usually much more effective to allow time for each person to calm down and think rationally. For example, if, in a bad moment, you say something you regret, like calling your teens stupid, follow this formula: wait for them (and yourself) to calm down, ask for a private meeting, identify the hurt (in this case calling them stupid), apologize for the hurt, explain that you don't actually believe that about them. This last step is the most important of all because what will fester within them is the belief that their own parent thinks they're stupid (or whatever else you may have called them). After that, allow time for healing.
Explain How Your Actions Are Motivated By Love
The teenage brain may be more developed than that of a small child, but teens are still very egocentric, and they have a difficult time thinking rationally when situations affect them and get in the way of what they want. This egocentricity has a way of making them feel that the actions their parents take are unfair and are meant to cause them harm. Because of this, they naturally begin to question how their parents truly feel about them. My advice is to emphasize often the love behind the actions you take. They may not understand it at the time, but since you have emphasized it, when they question how you feel about them in the future, they will already have your answer, and they may be spared the pain of dealing with the idea that their parents don't care about them.
Meaningful time with teens is time doing things with them that are the most important to them. This may not always be interesting to you, but it is very important to them. I have spent countless hours playing videos games, watching shows, being taught to draw, taste testing, learning new facts, taking walks, listening to music, shopping, and much more with my kids, and much of the time, I had no interest in doing any of those things, but the time spent with them meant something to them. If you think your teens would not want to do anything with you, you are most likely dead wrong. Your teens may not want to spend night and day with you, they may even want to be away from you a lot, but that is part of being a teen, and it doesn't actually mean that they don't want to spend time with you. They might just not want to play peek-a-boo anymore. Find the things they are most interested in and the things they want to share with you. Don't be discouraged if they resist your first attempts. Keep trying. They may need time to come around to the idea, but your attempts will communicate to them that they are important to you, and there are few things more important than knowing that.
Wrapping Up
Teens are difficult to raise, but remember that being a teen is difficult for them as well. They usually don't know why they do what they do either, and they greatly appreciate patience and forgiveness, even though they rarely express it. Also keep in mind that sometimes they are going through things that require professional help, and you may even want to seek counseling yourself to help you become a better parent and better connect with them. Whatever you do, remember that the best thing you can do is love them and do your best, and despite your mistakes, and as long as you don't give up, there is a good chance that you are building a foundation for a healthy relationship with your teens that will last a lifetime.
06 Jun 2018
Just Get Out of the Comfort Zone. Just Be DAD.
Remember the song "Danger Zone" from the movie Top Gun? I loved that movie, and the Kenny Loggins song is a must for any retro fan. In the movie, the song was the perfect soundtrack for those flying scenes, as the pilots pushed their aircraft to the limits and beyond, into the danger zone, where the engines could stall or worse. It was a perilous place to be.
Serious mountain climbers know about the "death zone." On Mount Everest and some of the other highest peaks in the world, once a climber reaches about 26,000 feet, the amount of oxygen is insufficient to sustain human life. Many climbers have died because they weren't properly prepared or didn't have enough oxygen with them.
Most of us will probably never climb into a fighter jet cockpit or attempt to summit the world's tallest mountain, but there is another danger zone where we dads often find ourselves with our families: the comfort zone. I like being in the comfort zone. It's free of stress and the craziness of life that is so often around me at home. Some might call this my "happy place." There are times that we need an oasis where we can drown out life around us and find peace and serenity. But if we want what's best for our families, the comfort zone is a place we are never meant to stay for very long.
When I first got married, I married not only my wife but also her family, which included two boys in their mid to late teens. For a while I had a hard time building a relationship with them. I'd get home from work in the evening and they'd usually be in the living room, watching a television show I didn't get or couldn't care less about. It was much easier for me to get my dinner and retreat into the more comfortable sanctuary of my bedroom. I could read a book or watch TV and I didn?t have to engage with them unless it was on my terms.
At the time, I thought: What was the point? I couldn't relate to them and they certainly couldn't relate to me, at least on the surface. Clearly, I was missing the point. I was off in my comfort zone, and I wasn't going to be intentional about being a dad to them.
My wife LeeAnn was so patient with me, and every now and then she would enter my serene hideaway and remind me that I didn't marry just her, but also two boys she loved deeply. If I wanted to develop a better relationship with them, I had to leave the Comfort Zone. I had to engage them.
That word "engage" has transformed who I am as a father. This didn't happen overnight, and there were starts and stops as I kept fighting off selfishness and the desire to go back to the Comfort Zone. But then one day my father-in-law gave me advice on how to be intentional as a dad. He said that if I wanted to become closer to the children, I had to drop the labels, quit thinking of them as my stepsons and foster daughters but rather as my sons and daughters. I had to stop labeling myself as a step dad and foster dad, and just be dad. He said the labels that we use often create distance and give those of us that are not biological dads an excuse to keep that separation.
I had to stop labeling myself as a step dad and foster dad, and just be dad.
He was right. While an attorney might say that, from a legal perspective, step and foster kids are the correct wording, I have grown past that and see them as my children, for as long as God allows them in my life. Several months ago, we decided after 5 years of fostering, to take a break. It was good for our marriage, and last year, I discovered a whole new zone: The Grandparent Zone. Our youngest son and his wife gave birth to a beautiful baby boy. Now I get to learn to just be grand-dad!
Being an engaged dad means being hands-on and enthusiastically involved in your children's lives. It's getting to know them on their level and being consistent in letting them know you are there. It also means that as they get older you are coaching them and modeling how to live by your actions and how you live. An example of this is how they see you handle conflict or adversity and perhaps more important, how you treat your spouse or their mother. Believe me, your young ones are watching.
You can't do these things by being in your comfort zone. That sends a whole other message that says "Leave me alone," or "You're not worth my time."
That sounds cruel, doesn't it? Yet our country is full of disengaged fathers. I see it in the neighborhood we live in, and as a foster dad, I see it in the families of the girls we work with. Many dads are physically absent, others are present but emotionally distant, and some have hurt their kids so much that they aren't allowed to be around and in their life.
Engaged fathers and father figures really do make a difference. Since I have left my Comfort Zone as a dad, my relationships with both of my stepsons are vastly improved. Things are far from easy, but they can see that I'm more interested in them and many more activities and conversations have had positive results.
Do your relationships with your children need a transformation? Be an intentional, hands-on dad. You will make mistakes here and there, but you will also learn from them. Embrace your role as a father and make a difference in the lives of other kids. Close up shop on the Comfort Zone.
Even now, I have days when the comfort zone is awfully tempting. But I rely on my faith, my patient and loving wife, and other dads who encourage me.
Just Get Out of the Comfort Zone. Just Be DAD.
**Original article published by the National Center For Fathering**