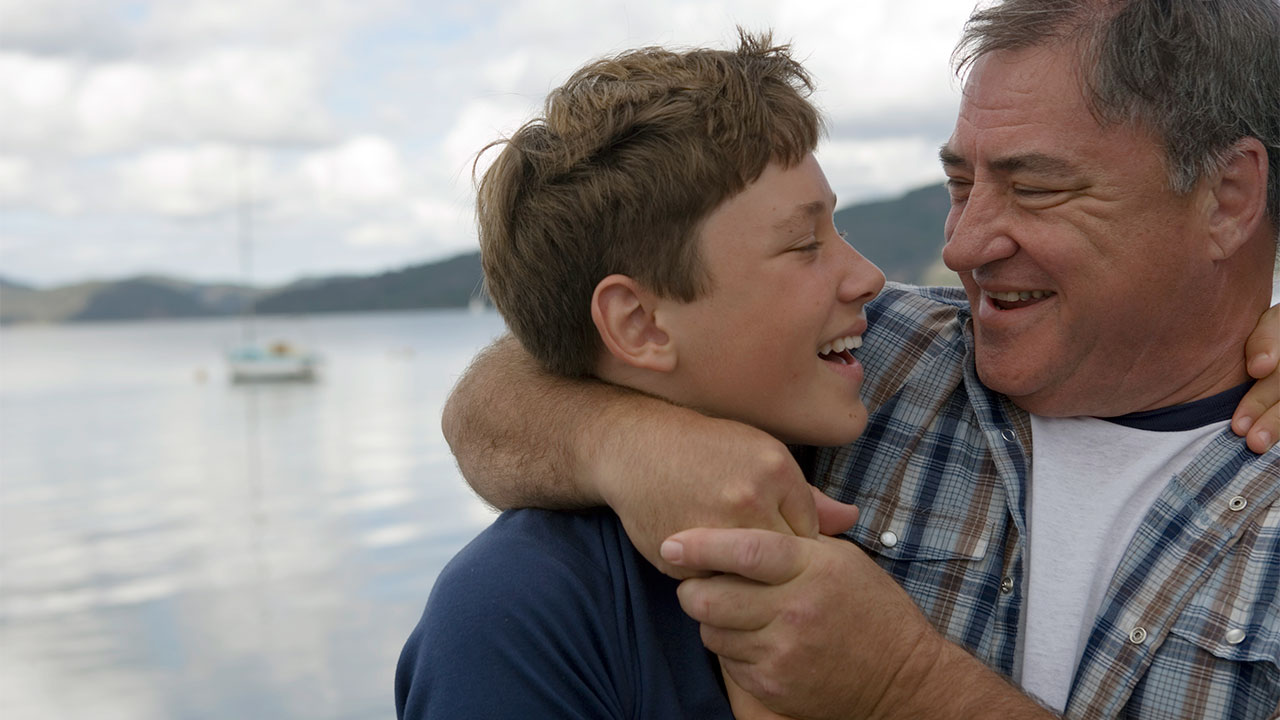 Have you ever wondered what happened to your little baby who was always happy to see you? Do you even remember what it was like to have a child who cried only when something was actually wrong? What about all those sweet hugs and cuddles? Even a single word of sweetness would be nice from a teen, but those are about as rare as $100 bills laying around in the street. As a father of 5, I fully understand how difficult it is to look at your teens and remember that they were once perfect little babies, and because of that, it can be difficult to conjure up the patience and compassion needed to deal with their emotions. It's difficult to feel compassion for someone who argues with everything you say and yells at you uncontrollably after a simple request to take out the trash. In spite of this, there is hope for teens, and chances are that if you love your teens and do your best as a parent, they will get over their teen struggles at some point, and you will have a good relationship with them, and they might even surprise you and turn out quite well. My wife and I have had our struggles as well, and while we are still in the thick of it (3 teens and 2 on deck), we have seen tremendous progress over the years in spite of our obvious shortcomings as parents. I may be a therapist, and I may treat teens and their families for a living, but it doesn't mean that I'm not human, and it doesn't mean that I don't make a lot of mistakes. The wonderful truth is that even when, not if, you make mistakes, you still can, and definitely should, repair those mistakes, and the future may yet still be very bright for you and your teens. Keep reading as I lay out 3 solid tips that just might make all the difference for you and your teens.
Repair Damage Immediately
Repairing emotional damage immediately is probably the most important habit you can form for your relationship with your teens, and it can lay the foundation for healthy, life-long relationships. Emotional damage attacks the soul like cancer attacks the body. Cancer begins with a DNA damaging event, which can happen due to things like experiencing traumatic events and consuming harmful substances. These events are not uncommon, but our immune system is very effective at destroying any cells with damaged DNA so they can't replicate. Cancer itself begins when the immune system fails to prevent these cells from replicating, and the result is that the cancer spreads, and this often leads to a life-threatening crisis within the body. Now let's apply this analogy to emotions and relationships. We suffer trust damaging events or connection damaging events in any relationship we engage in. These can be words that are spoken or actions that are taken that do damage to us emotionally. As with damaged cells, we need a similar immune response in our relationship to prevent the spread of the emotional damage, which can grow like a cancer and cause long term damage to the relationship, or even destroy it. If we act quickly to repair the damage, the likely result is that the damage will be repaired, and the relationship will stay strong, and trust will be gained. If we do not repair the damage, it sits in the gut and festers, the emotional equivalent of cancer spreading. Keep in mind that it is often impossible to repair during an altercation. It is usually much more effective to allow time for each person to calm down and think rationally. For example, if, in a bad moment, you say something you regret, like calling your teens stupid, follow this formula: wait for them (and yourself) to calm down, ask for a private meeting, identify the hurt (in this case calling them stupid), apologize for the hurt, explain that you don't actually believe that about them. This last step is the most important of all because what will fester within them is the belief that their own parent thinks they're stupid (or whatever else you may have called them). After that, allow time for healing.
Explain How Your Actions Are Motivated By Love
The teenage brain may be more developed than that of a small child, but teens are still very egocentric, and they have a difficult time thinking rationally when situations affect them and get in the way of what they want. This egocentricity has a way of making them feel that the actions their parents take are unfair and are meant to cause them harm. Because of this, they naturally begin to question how their parents truly feel about them. My advice is to emphasize often the love behind the actions you take. They may not understand it at the time, but since you have emphasized it, when they question how you feel about them in the future, they will already have your answer, and they may be spared the pain of dealing with the idea that their parents don't care about them.
Meaningful time with teens is time doing things with them that are the most important to them. This may not always be interesting to you, but it is very important to them. I have spent countless hours playing videos games, watching shows, being taught to draw, taste testing, learning new facts, taking walks, listening to music, shopping, and much more with my kids, and much of the time, I had no interest in doing any of those things, but the time spent with them meant something to them. If you think your teens would not want to do anything with you, you are most likely dead wrong. Your teens may not want to spend night and day with you, they may even want to be away from you a lot, but that is part of being a teen, and it doesn't actually mean that they don't want to spend time with you. They might just not want to play peek-a-boo anymore. Find the things they are most interested in and the things they want to share with you. Don't be discouraged if they resist your first attempts. Keep trying. They may need time to come around to the idea, but your attempts will communicate to them that they are important to you, and there are few things more important than knowing that.
Wrapping Up
Teens are difficult to raise, but remember that being a teen is difficult for them as well. They usually don't know why they do what they do either, and they greatly appreciate patience and forgiveness, even though they rarely express it. Also keep in mind that sometimes they are going through things that require professional help, and you may even want to seek counseling yourself to help you become a better parent and better connect with them. Whatever you do, remember that the best thing you can do is love them and do your best, and despite your mistakes, and as long as you don't give up, there is a good chance that you are building a foundation for a healthy relationship with your teens that will last a lifetime.
25 Feb 2019
Over the last few years the health care community has been forced to take a hard look at the prescription medications that providers have been putting out into the community. The rampant misuse of doctor prescribed opiates, stimulants, and benzos has compelled clinicians to re-evaluate their methods for treating patients. But as encouraging as this trend has been, it is still important for us as patients and consumers to take an active role in our treatment. A balance must be struck between relying on the expertise of providers and being conscious of what we choose to consume.
I want to preface this by saying that the correct medication can do wonders for your mental health. The difficulty stems from (1) thinking that ONLY medications can help and (2) not taking the time to figure out the true nature of the problem before deciding on treatment.
Rule out other causes
It may be tempting to want to get your child on an ADHD medication at the first sign of problems in the home or school. The presence of inattention, difficulty concentrating, irritability, excessive activity or aggression can all be disruptive to your child's academic success and relationships with family or friends. But, like most endeavors, mental wellness must be built on a solid foundation that cannot be rushed. And the best place to start, is with a proper diagnosis.
This is often easier said than done. For example irritability, increased sensitivity, sleeplessness, temper tantrums, and difficulty concentrating can all be seen by your clinician as signs of ADHD. However, these symptoms are also what you might expect to see with DEPRESSION, as it presents in children. Taking the time to ensure a thorough diagnosis may save you years of chasing your tale with minimal benefit (not to mention money).
Who should I have diagnose?
First and foremost, a diagnosis of ADHD has to come from a health care professional. Resist the urge to self-diagnose! While no one would argue that you aren't the expert on your child (you almost certainly are) there are clinicians out there who are experts in mental illness, which is what you need. If your child's school is lucky enough to have a school psychologist, try reaching out to them to discuss options. In the community, the primary clinicians diagnosing ADHD are psychiatrist. These are medical doctors, with expertise in treating mental illness, and they are the only providers (at least in Kansas and Missouri) that can prescribe medication. A Licensed Psychologist may also be a good person to reach out to for an initial diagnosis. Although they cannot prescribe, they can help you create an optimal treatment plan for your child.
With all respect to teachers out there, teachers should not be diagnosing. A well-reasoned recommendation from your child's teacher may be worth taking into consideration, as they do spend a significant amount of time with your child in a structured environment. But teachers should never diagnose. I would also strongly encourage against letting your primary care physician prescribe psychopharmaceuticals to your child. While they may have had some training in the past on mental illness, that does not mean they're still well versed in the subject (you likely wouldn't let your pediatrician perform an operation on you right?). It's far if your PCP suspects your child may be suffering from a mental illness, to just ask them for a recommendation to a good psychiatrist or psychologist.
What goes into a GOOD diagnosis?
As I previously stated, there is no definitive test for ADHD. I am fond of saying things like, there's no thermometer for depression or blood test for inattention,. but that does not mean we should be taking shots in the dark hoping to hit something; especially when it comes to prescribing medications to a developing brain. There are some ways for you to know that your child is receiving a good, well thought out diagnosis. A thorough evaluation should include the following:
Extensive history. Any thorough diagnostic intervention is going to include a detailed history going back to infancy or earlier. You never know where important diagnostic information may pop up, so having as much information as possible is a plus.
Multiple settings. An often overlooked aspect of ADHD is that it appears in multiple settings. You would normally expect impairment to be fairly global, with signs of hyperactivity/inattention appearing in multiple areas of life. If you only see symptoms in one area (at school, at home, out with friends, etc.) then it would be a good idea to explore other diagnoses.*this can be accomplished through testing discussed below*
Areas of strength, aside from the difficulties, children with ADHD almost always have tasks or topics for them that are considered strengths and aren't impaired by symptoms of hyperactivity or inattention. When interviewing parents of children with ADHD, you almost always hear, Little Johnny just can't focus on anything, except when it comes to ______ . With that he's focused in. It's important to focus on these areas (reading, video games, sports, etc.) and take them into consideration during diagnosing.
Psychological testing. I know, I know, I said there's no DEFINITIVE test for ADHD. But there are assessments that can lend some measure of objectivity to the diagnosing process and help rule out other issues besides ADHD. These tests include the Conners 3, BASC-3, or Brown ADD Scales and should be administered and interpreted only by a qualified professional. A good psychological assessment should include 1) a developmental history, (2) a parent rating scale, (3) a teacher rating scale, (4) a self-report, and (5) observation.
Now, clinicians certainly don't HAVE to go through all of these steps before giving an ADHD diagnosis. In fact, there are plenty out there that will give your child a diagnosis and prescription after one, 50 minute interview. But like any treatment, you want to be sure your provider is treating the correct thing. Just like you would want testing done to confirm lung cancer, rather than asthma for example, before starting chemotherapy. Before your provider prescribes your child stimulants, it's worth taking the time to rule out other causes; like depression.
Take away
There are plenty of good and effective medications and treatments available to help manage ADHD symptoms in your child. But, there are ZERO shortcuts. Before you invest the time, energy, and money into your child's treatment, it's crucial that you insist your clinician take the time to ensure an accurate diagnosis.
Thank you for reading. Feel free to reach out with any questions or topics of interest. In Part 2 we will be discussing treatments available, what the latest research is saying, and self-care.